Zum Zum is a young publishing house from Slovakia. We publish stories that touch us. Here you can take a look at the list of our books for children. Feel free to contact us for more information.
Cats from Liptovsky Hradok
25 true stories about adventures which happened to cats in Liptovsky Hradok. Mica and her kitten Tuto are in the main roles. Although Tuto was born deaf, his handicap does not stop him from having fun.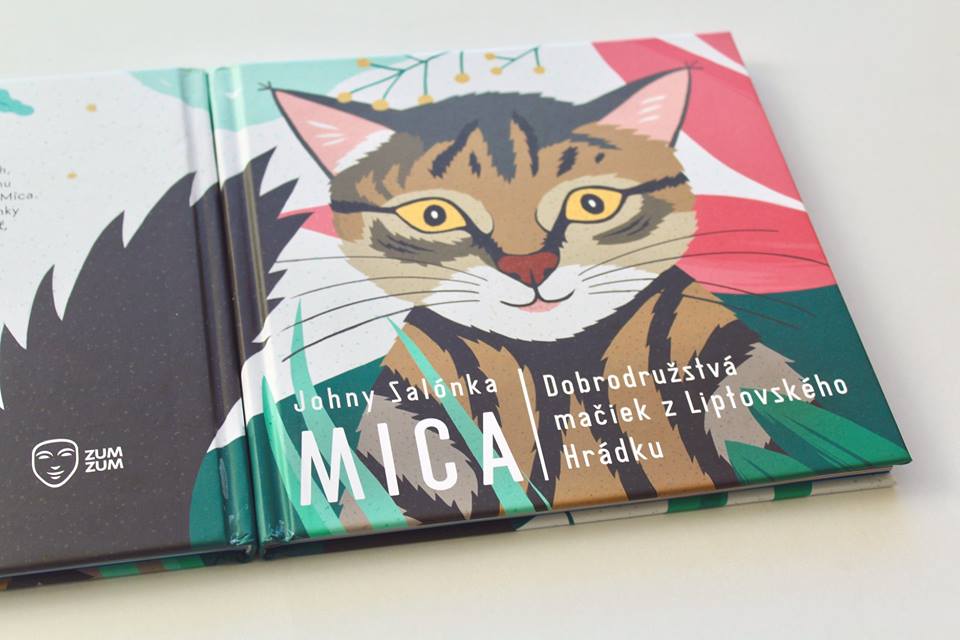 Author: Johny Salónka, Illustrations and graphic design: Zuzana Bartová, Format: 195×195 mm, Pages:60, hardback, from 3 – 10 years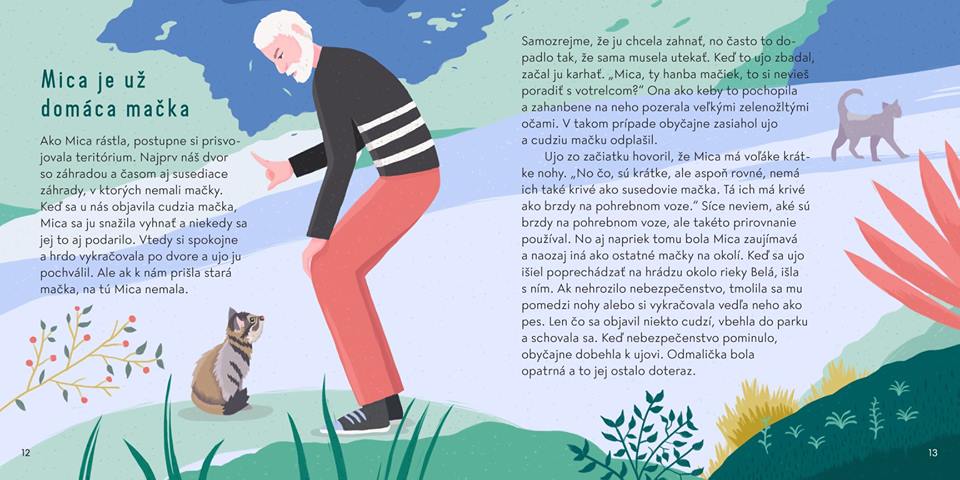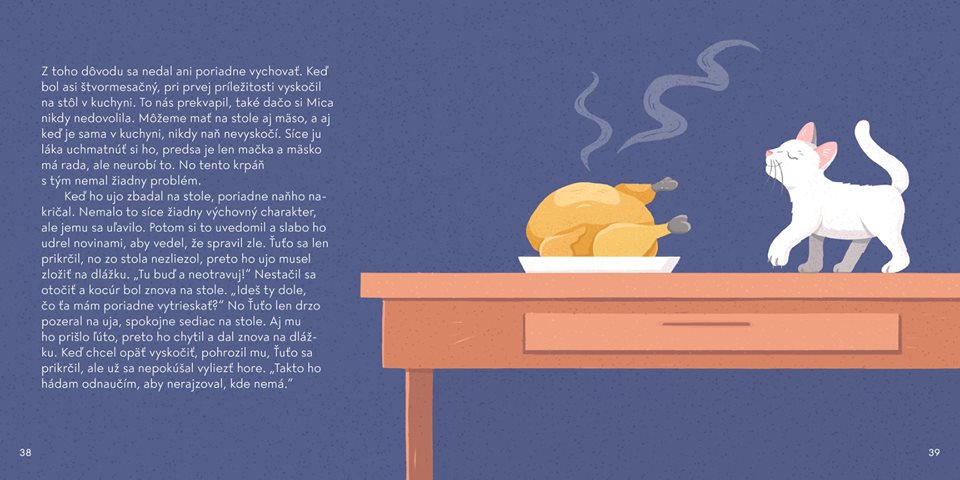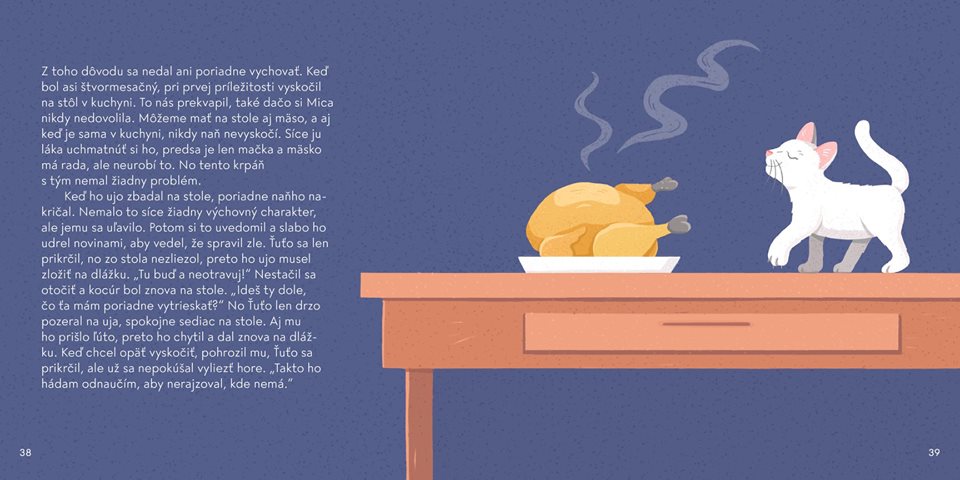 Sugar shoes
First the tip of his nose, then one hand, then he pushed the door, took a step forwards and Kyle was in the attic. He looked around and, in annoyance, let the door swing behind him. Nothing. It was just an ordinary attic filled with boxes, old furniture, an old rug and… dust. The kitten purred on the stairs.
"Come in, there's nothing in here anyway," Kyle called him in and started to look through the boxes. Papers, old toys, clothes… Kyle rolled his eyes each time he opened a box, one after the other. The kitten was brushing up gently against his leg, when suddenly he pulled out an old pair of shoes from one of the boxes. They were very old, brown, and they sure didn't look like they were made of sugar, not to mention dangerous. He put one on, then the other, and suddenly they sparkled and went "Boom!" Kyle fell on the ground.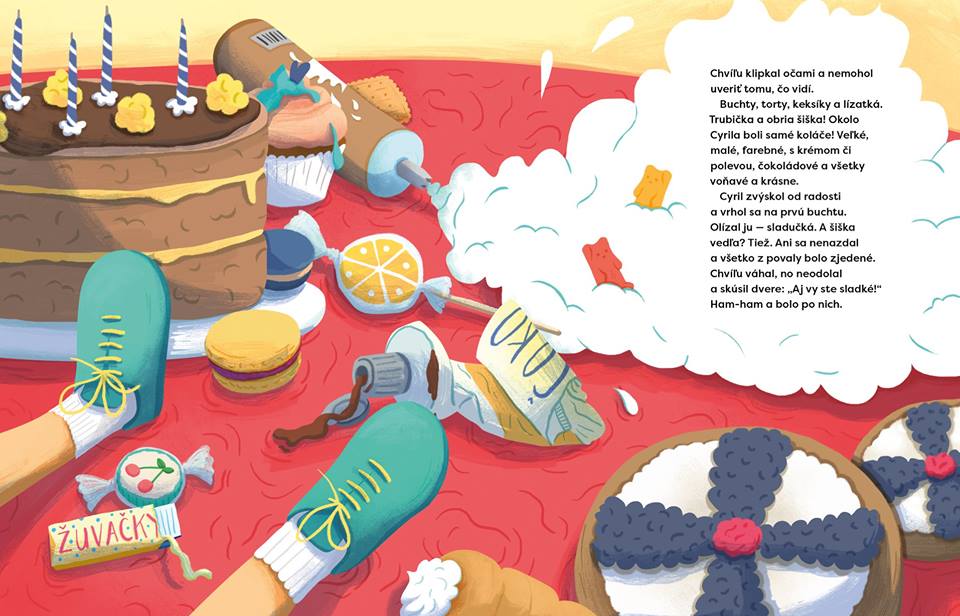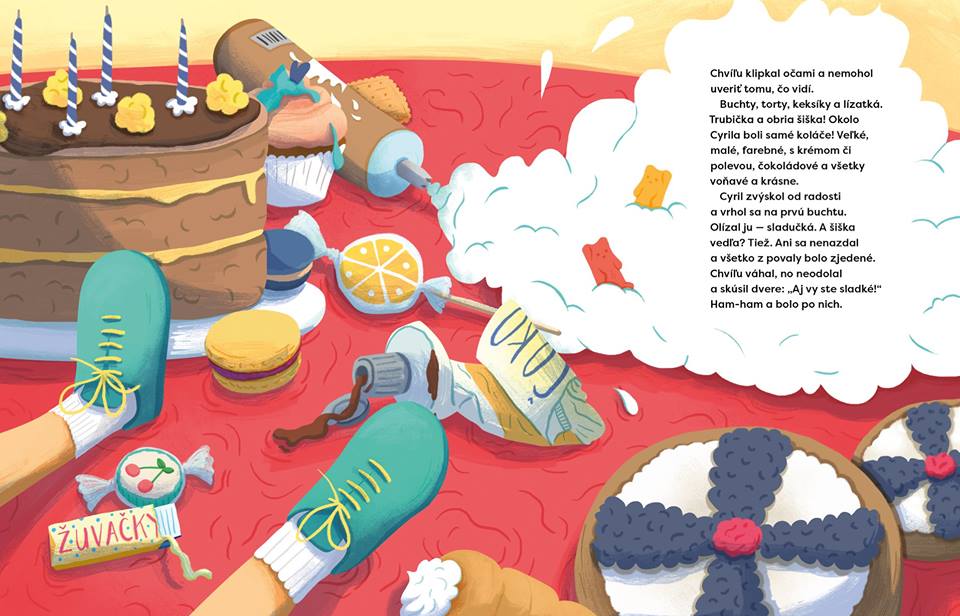 The Sugar shoes tells a story about the love for sweets and the consequences of overeating candy. The book shows that we can control the sugar cravings, and if the sweets are made of healthy and local ingredients, they will be that much tastier.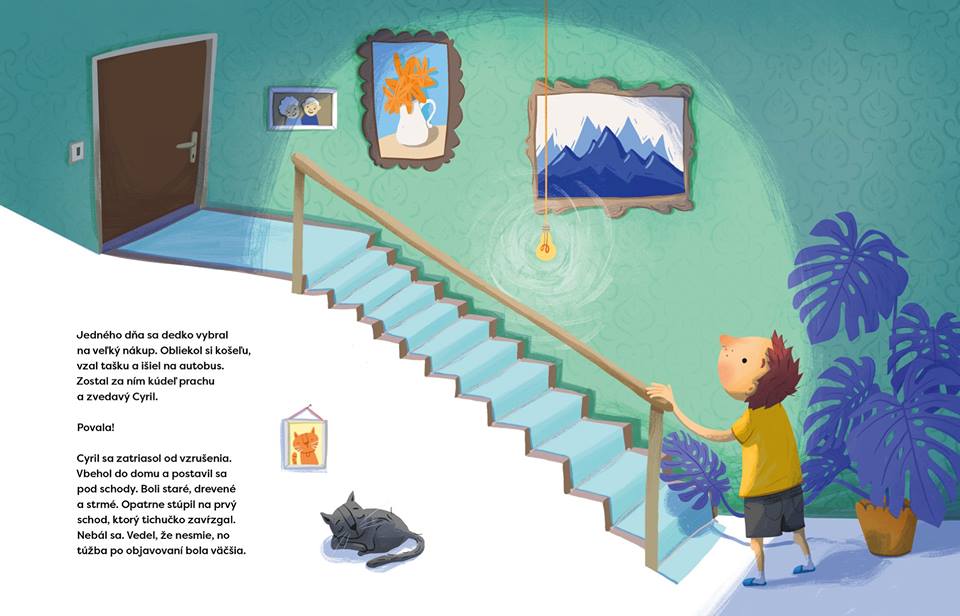 Author of the text and Illustrations: Adela Režná, Graphic design: Silvia Vargová, Format: 162×208 mm, Pages: 36, hardback, from 4 – 10 years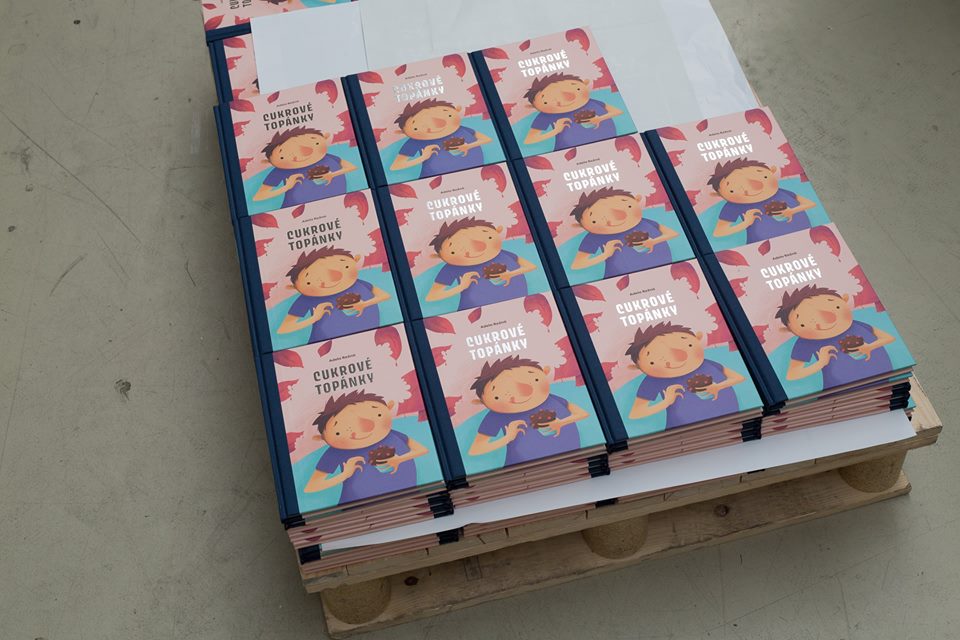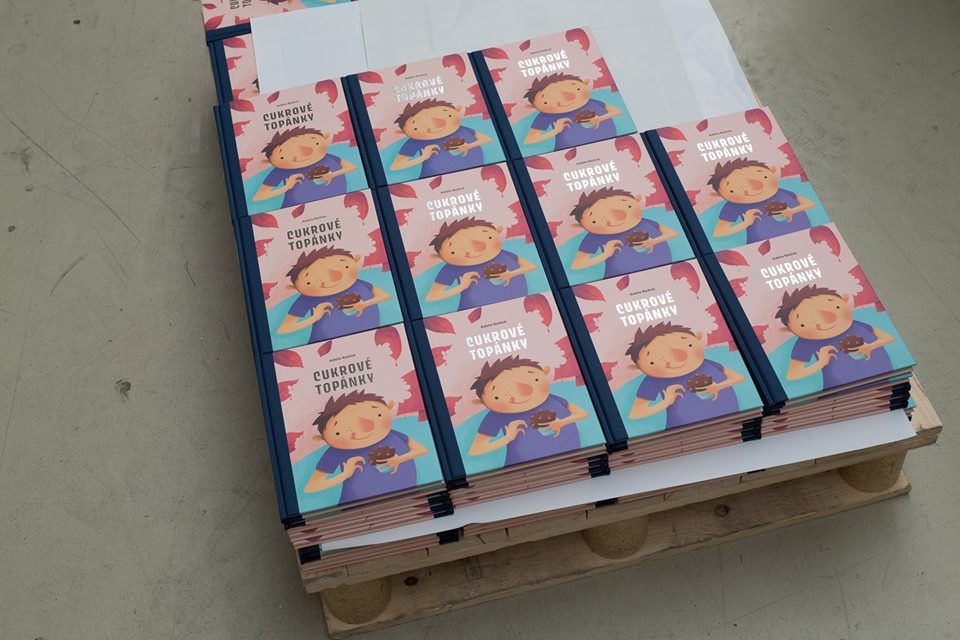 Marina Submarina – How do you make a movie, when you aren't a grown-up
One day, Marina Submarina decided to shoot a great movie about pirates and monsters. With her grandpa and friends, because one can't do everything on their own. What's more, it was loads of fun with them.
Marina even took a secret oath on the carousel with Jonas and Chris that would never go to school again because they would already know how to make movies! And so they didn't spend holiday climbing trees and riding bikes, well, all right, they did, but only a little! But they were thoroughly looking for the film crew and actors, scrambling costumes, making up the plan, arranging placing for shooting and, of course, shooting!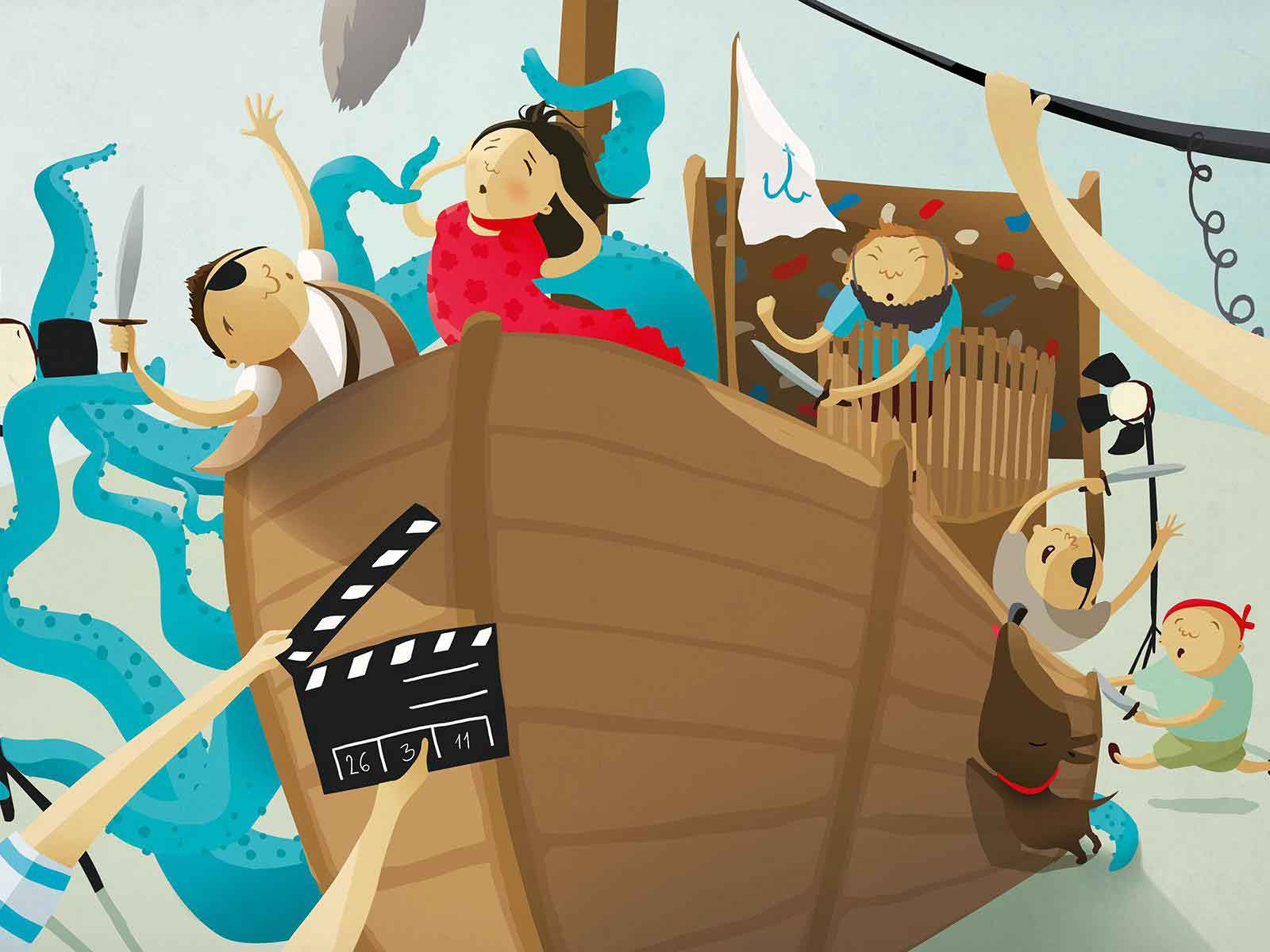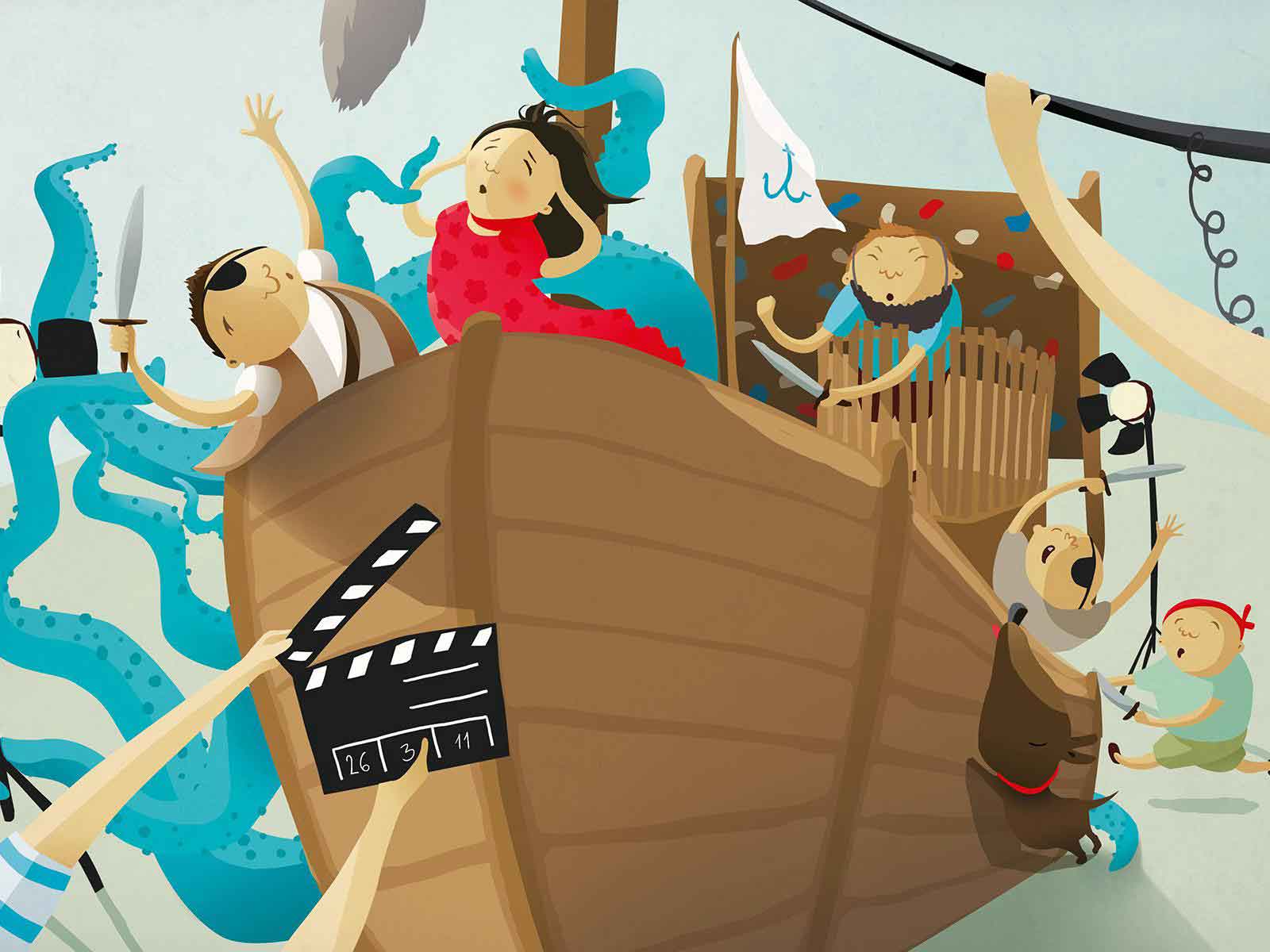 Author: Marka Staviarska, Illustrations: Adela Režná, Graphic design: Jakub Dušička, Format: 165×235 mm, Pages: 136, hardback, from 6 – 12 years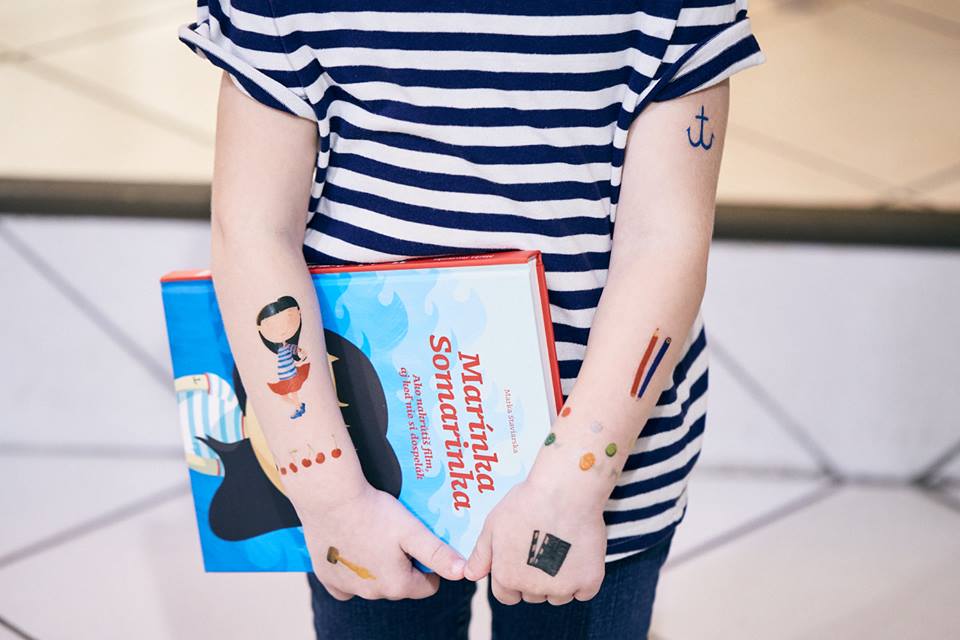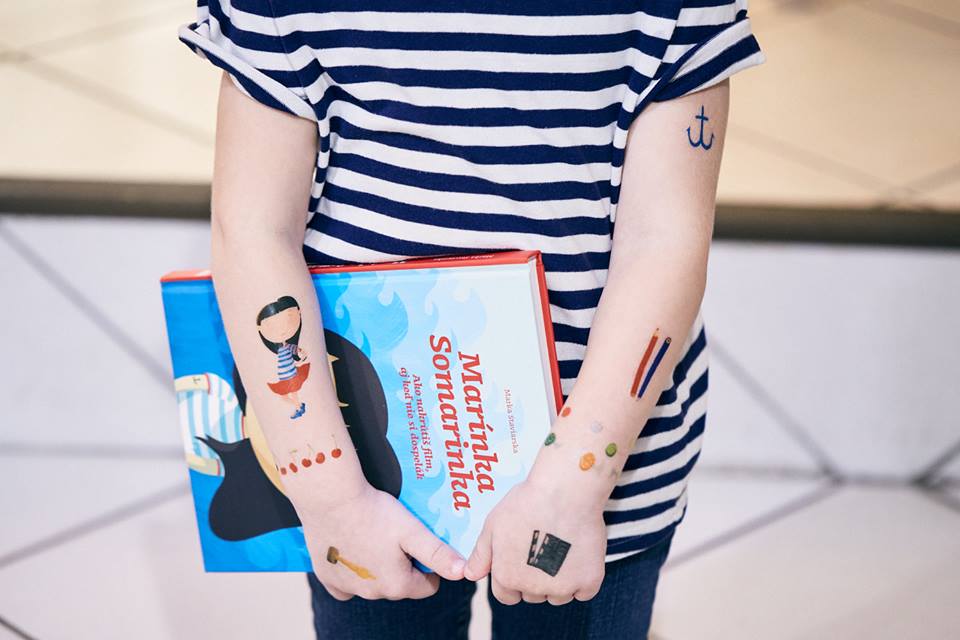 Marina Submarina Activity Book
We made also an activity book based on the story of Marina Submarina.
The activity book enables the children to experience the atmosphere of film crew on their own without the fear of failure and unknown. Marina Submarina draws your children into the film scene through catching story line action and fun. Children get to know all the requirements for successful shooting.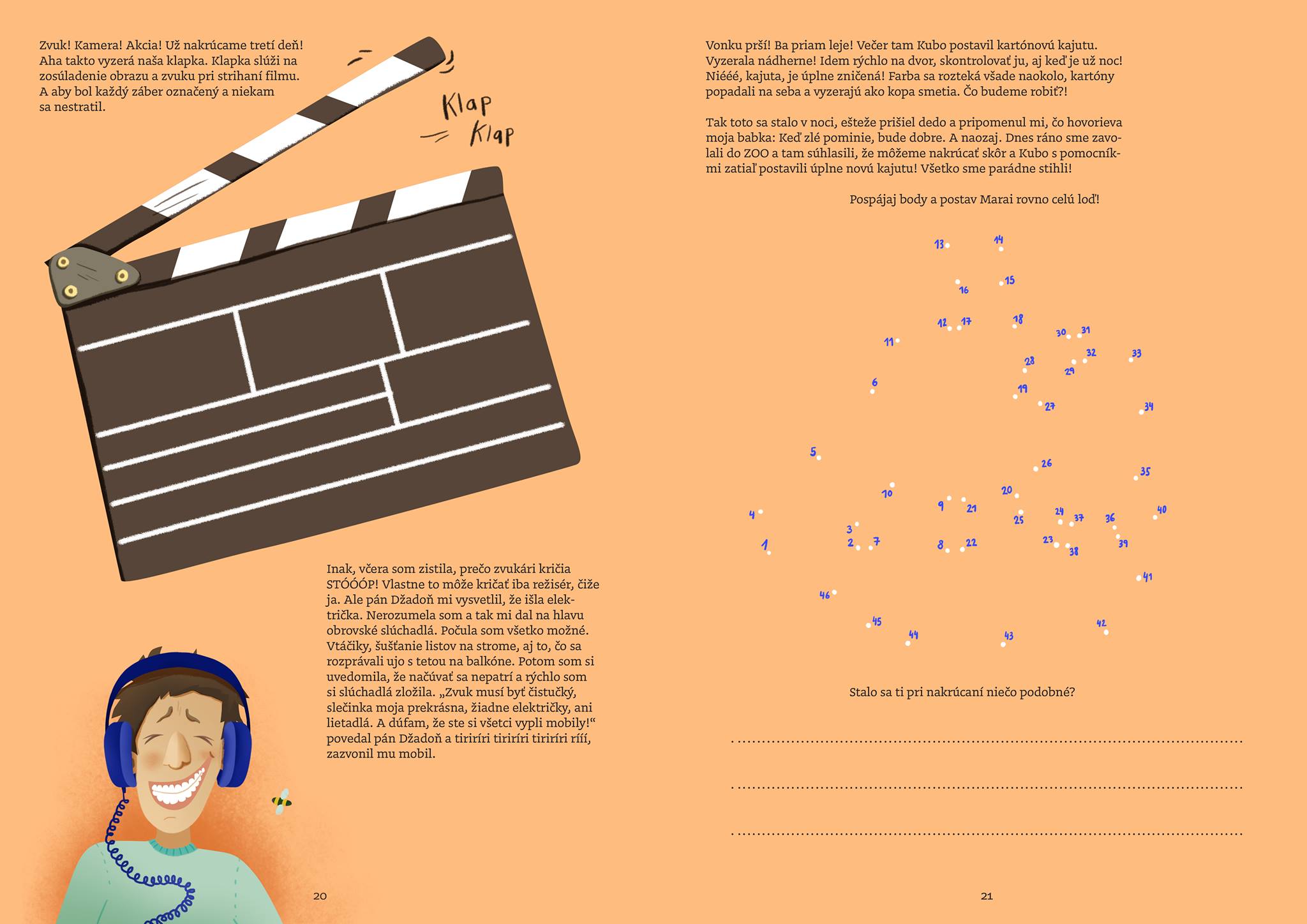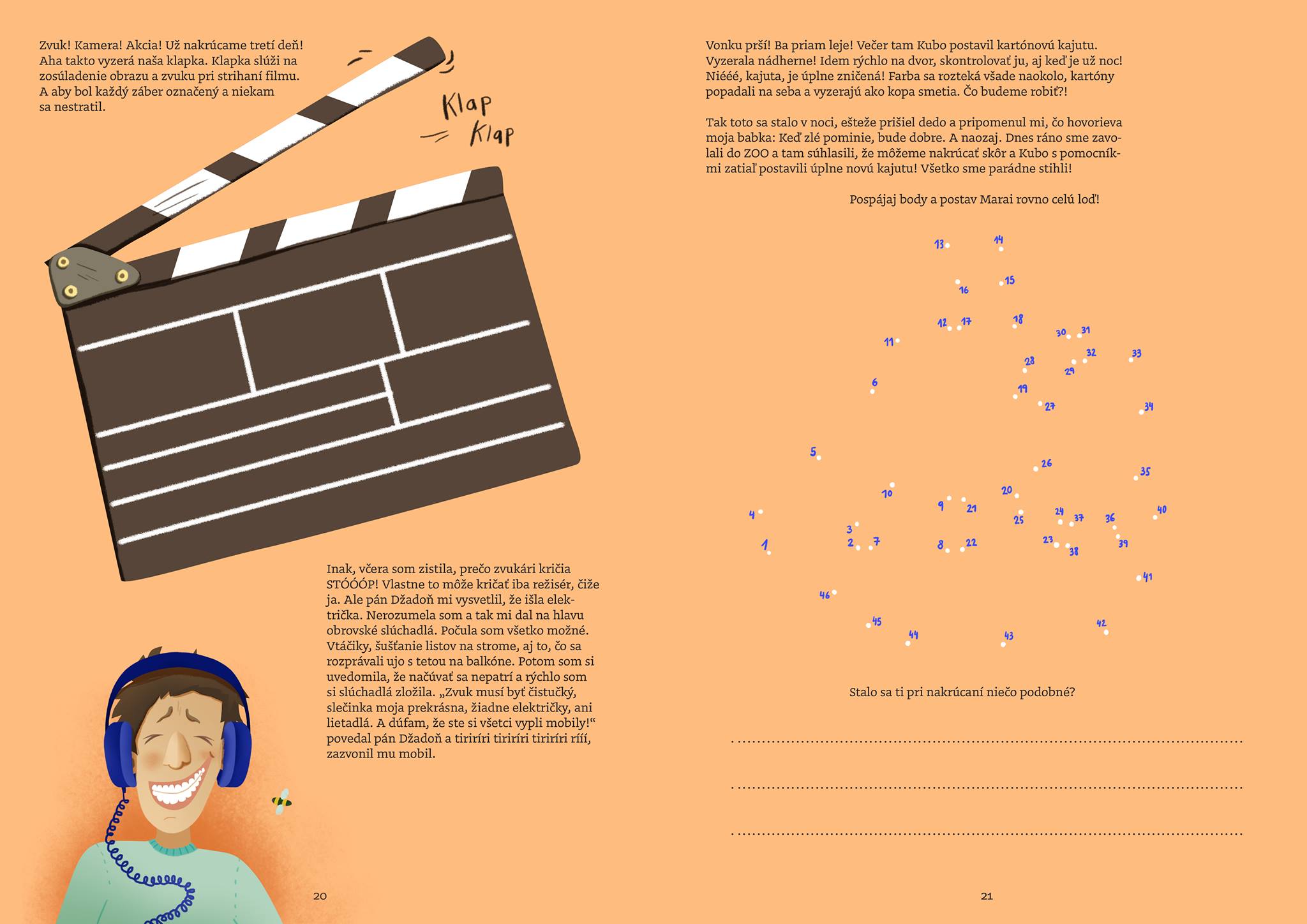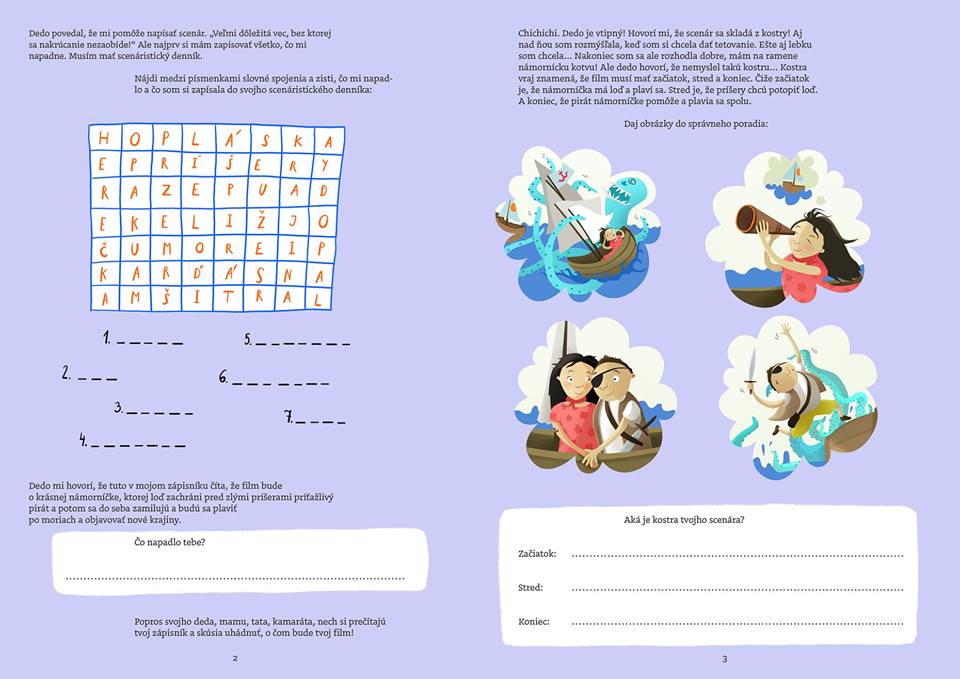 Author: Marka Staviarska, Zuzana Dušičková, Illustrations: Adela Režná, Graphic design: Jakub Dušička, Format: 210×297 mm, Pages: 32, paperback, from 7 – 12 years
Timo and the Stars
Story about little poodle Timo who goes from the big city for a holidays. In the mountains he discovers the secrets of the sky.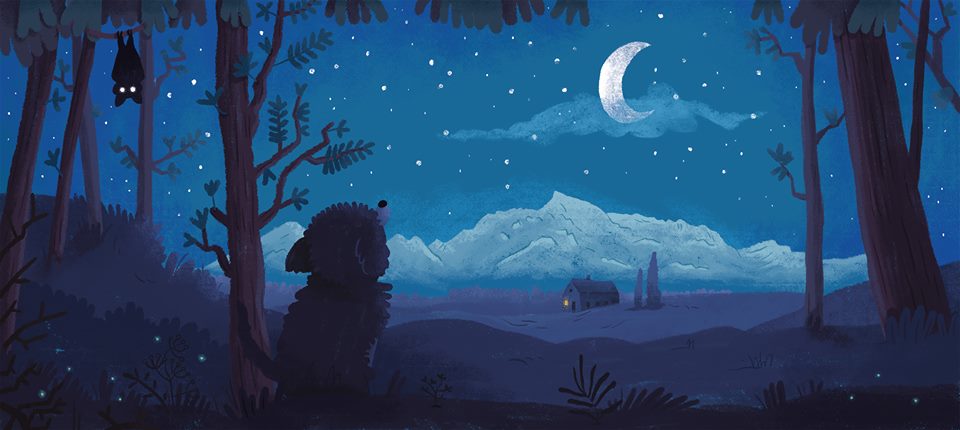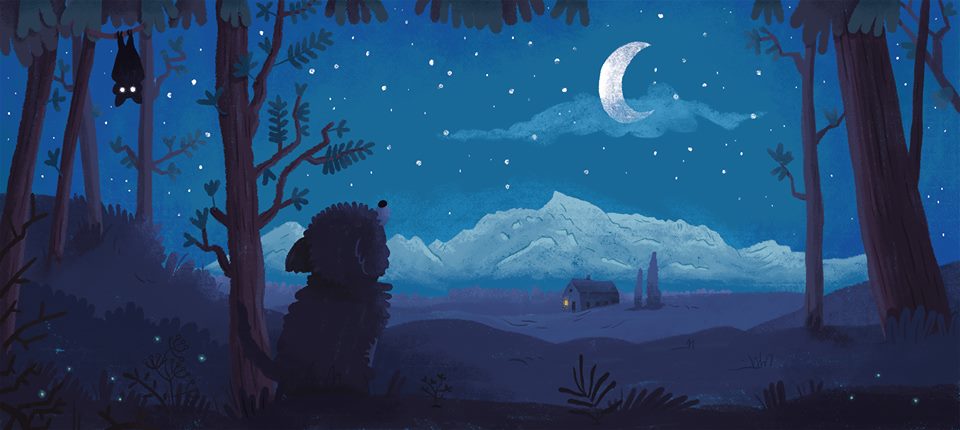 Book is in the face of writing and preparing the illustrations, Author: Zuzana Dušičková, Illustrations: Adela Režná, Graphic design: Silvia Vargová
Beelzebub Kolofon
Story about Beelzebub Kolofon who has to find two naughty kids and takes them into the hell. However Beelzebub Kolofon is one kind and clumsy belzebub who finds two very nice and smart kids John and Mary. The action story full of unexpected twists, adventure, humor and magical movements for the whole family can begin.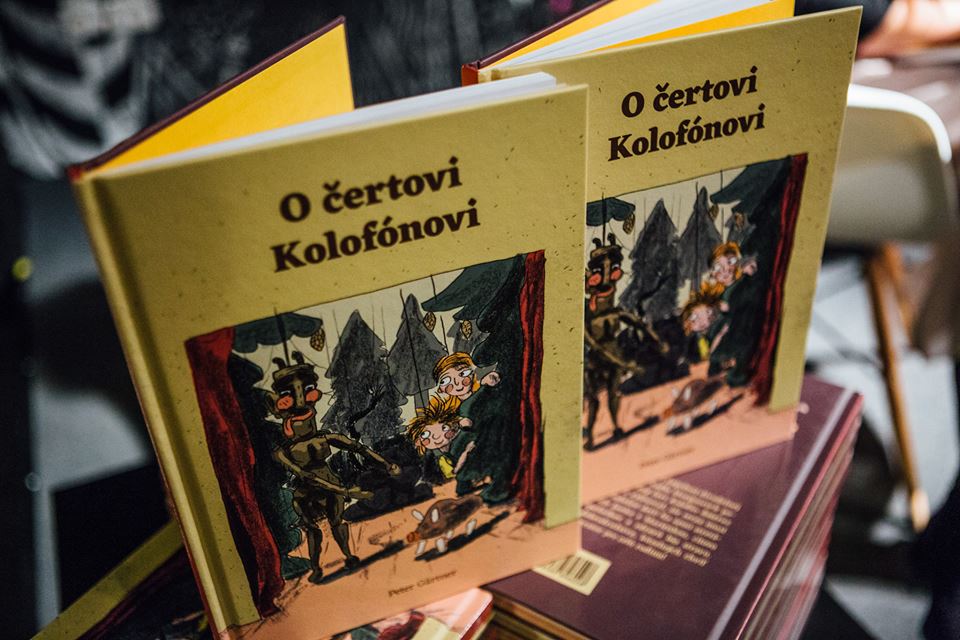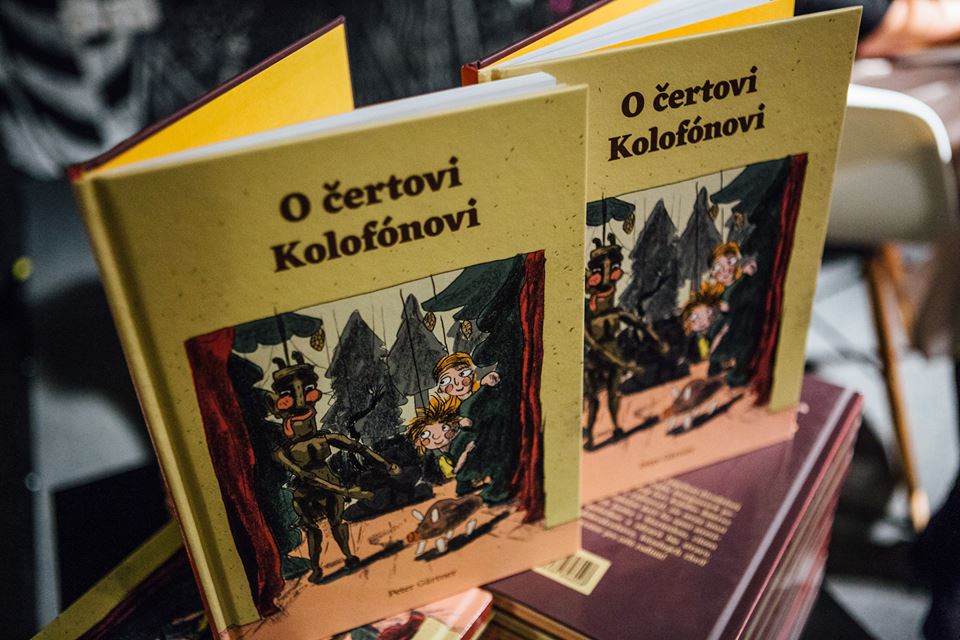 Author: Peter Gärtner, Illustrations: Michal Löwy, Graphic design: Adam Majko, Format: 180×250 mm, Pages: 80, hardback, from 4 – 12 years
Merithos – book from a teenager to a teenager
Action story about Semigod Kaz and magician Janet, who persuade, in their own unusual way, the nations of Merithos to join together in fighting against the enemy. Despite the fact that the story takes place in world of magic, dragons and God's essences, the characters are so common that they may seem to be ordinary people from our world. Janet and Kaz will show you that oversight and sense of humour are important things even when you and your hippogriff are being attacked by Godrase's army.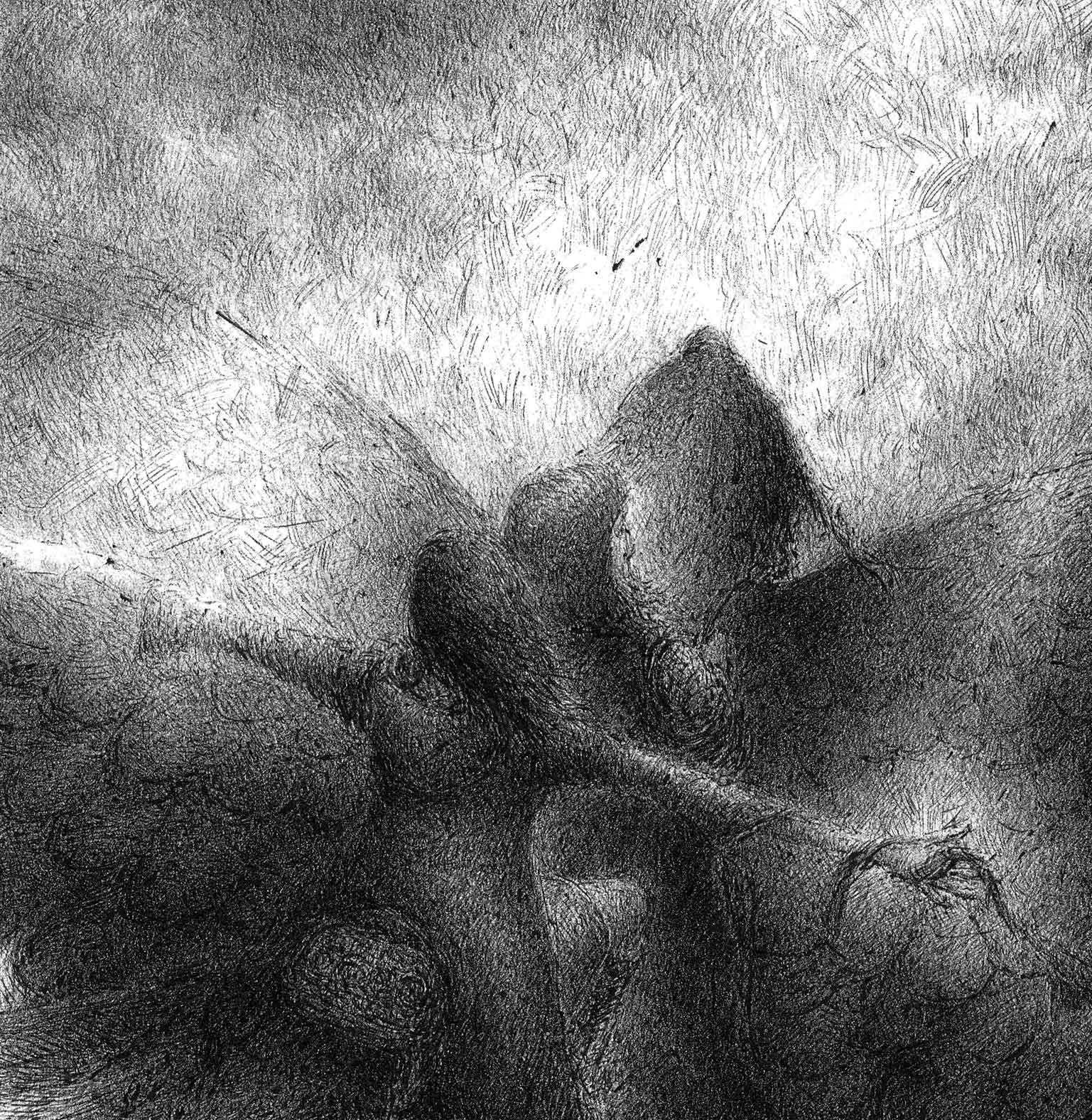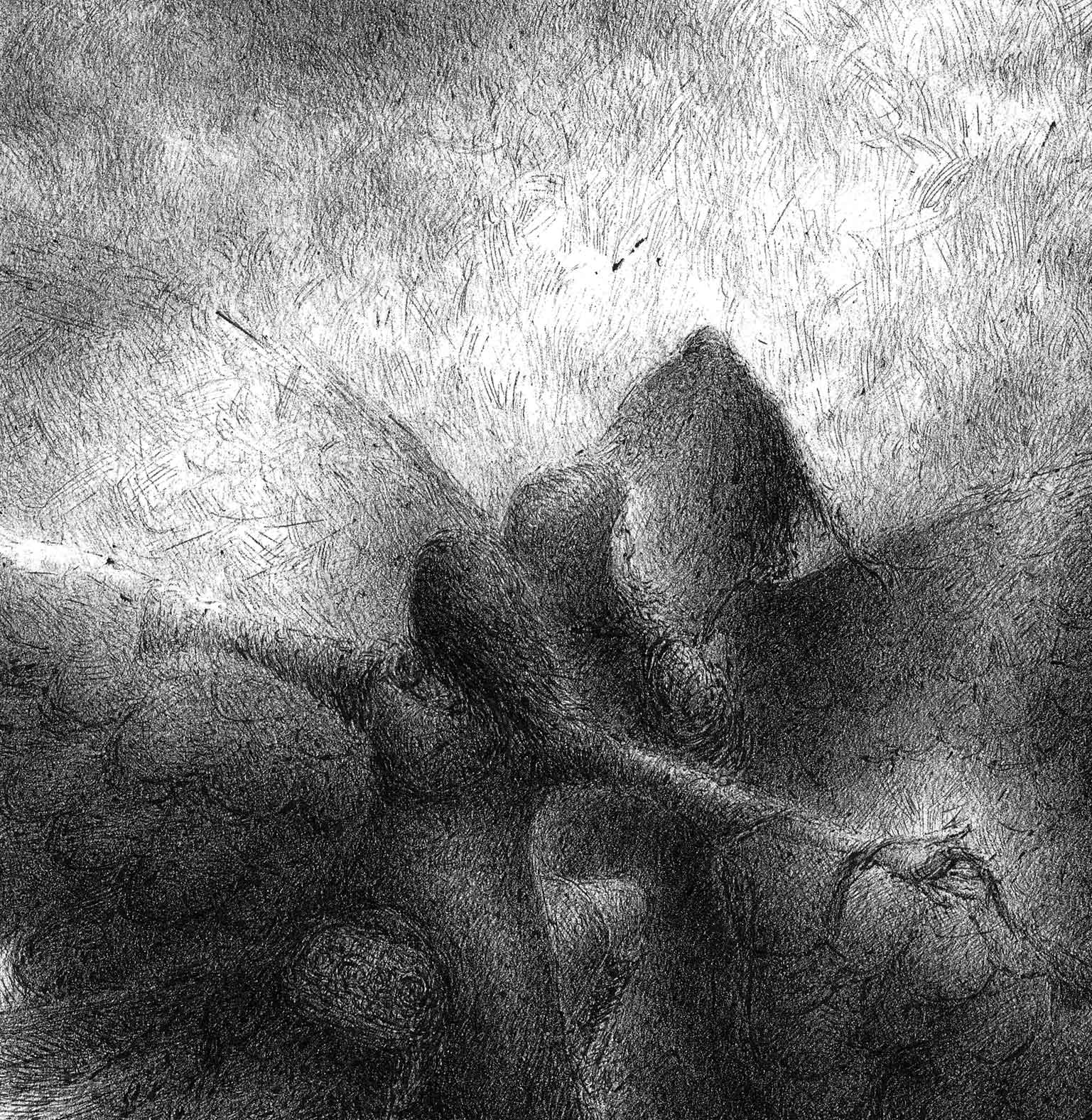 Author: Juraj Staviarsky, Illustrations: Martin Engler, Graphic design: Jakub Dušička, Format: 135×180 mm, Pages: 144, paperback, 8 – 18 years
Feel free to contact us for more information about the books and rights. Yours Zuzana Dušičková, Zum Zum production.